Harry Potter
Lochaven International of Scotland
Manufacturer and Licensee to the Film Industry
Lochaven has sewn up the market in dressing Hollywood stars from the silver screen, most notably the "Harry Potter" blockbuster movies starring Daniel Radcliffe, Emma Watson, Rupert Grint and Robert Pattinson to name but a few. In 2001, Warner Bros. chose Lochaven to supply all the Hogwarts school cardigans, jumpers and tank tops worn by the cast and extras in the iconic Harry Potter film series.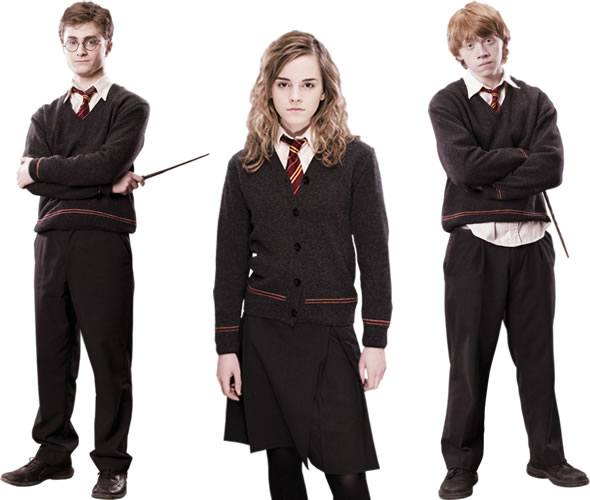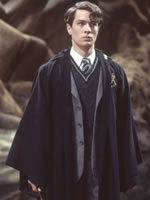 The changing styles throughout the film series was facilitated by access to Lochaven's vast design range which dates back to the 1950's. Retro flashback scenes from Harry Potter and the Chamber of Secrets and Harry Potter and the Half - Blood Prince were shot using retro knitwear made by Lochaven for the character Tom Marvolo Riddle played by the actors Christian Coulson and Frank Dillane. In Harry Potter and the Order of the Phoenix James Potter, Sirius Black and Severus Snape as teenagers are also seen wearing Lochaven's retro garments. Our involvement continued with the supply of clothing for Harry Potter and the Deathly Hallows - Part 2.
In 2009, due to the success of the movies and the high profile of the Lochaven branded products being worn by the cast, Lochaven offered the products to the public for the first time. In 2010, Lochaven and Warner Bros. launched a licensed Harry Potter branded version of our product which is available from merchandise retailers around the world. Our product is also on sale at The Wizarding World of Harry Potter at Universal Studios, Orlando, Florida and at Warner Bros. Studio Tour London - The Making of Harry Potter.

MARCH 13TH LOCHAVEN LAUNCH OFFICIALLY LICENSED WARNER BROS. HUFFLEPUFF HOUSE SCARFS
---
2ND MARCH LOCHAVEN LAUNCH OFFICIALLY LICENSED HUFFLEPUFF QUIDDITCH SWEATERS
---
FEB 20TH LAUNCHING LOCHAVENS OFFICIALLY LICENSED WARNER BROS. HOUSE TIES
---
16TH JAN LOCHAVEN LAUNCH THE OFFICIALLY LICENSED RAVENCLAW QUIDDITCH SWEATERS AND HOUSE SCARFS
---
THE HARRY POTTER SHOP AT PLATFORM 9 3/4 opens this Saturday the 15th December at 7.30am. The shop will sell Lochavens officially licensed Harry Potter knitwear!!
---
13TH NOVEMBER 2012 JOIN US ON FACEBOOK WE ARE OFFERING A 10% DISCOUNT CODE AT CHECKOUT TO OUR FACEBOOK FOLLOWERS ONLY UNTIL END OF NOVEMBER TO MARK THE LAUNCH OF OUR OFFICIALLY LICENSED SLYTHERIN HOUSE SCARFS.
---
JULY 2012 - PURCHASE YOUR VERY OWN PIECE OF MOVIE MEMORABILIA WITH OUR OFFICIALLY LICENSED WARNER BROS. GRYFFINDOR AND SLYTHERIN QUIDDITCH SWEATERS AND GRYFFINDOR HOUSE SCARFS
---
Warner Bros. Studio Tour London - The Making of Harry Potter
---
Lochaven is taking part in Harry Potter : A magical event at the London Film museum.
---
The Licensing Awards
---